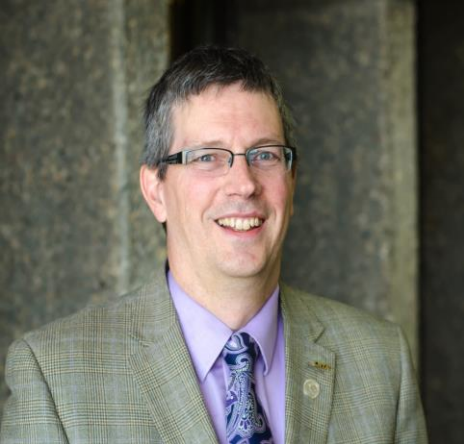 James Bedford – Biography
Prior to the last four years serving as Vice President of MTS, James was a classroom teacher of physics, science, and mathematics and an elected leader of MTS for twentyfive years. He is married to Dawn-Lynne and they are proud parents of three daughters, two of whom have graduated from public school and a third well on her way. Due to amalgamations, James has taught in three different school divisions without ever applying for a new job: Norwood, St. Boniface, and Louis Riel. Within these three Locals, he has served as Vice-President, President and Past President, as well as Council Representative, Benefits Chair, Collective Bargaining Chair and member and chair of numerous ad-hoc committees. James truly realizes the importance of local participation.
Provincially, James has served MTS on the AGM Ad Hoc Committee, the Group Benefits Standing Committee, as a representative on the Minister of Education's Certificate Review Committee, and as an elected member and chair of the Provincial Disability Benefits Plan Governance Board. He has served as a Member-at-Large on the Provincial Executive, chairing the Executive Pensions Committee and the Group Benefits Standing Committee.
During the past four years, James has served as Vice-President of MTS, in that time chairing the Audit Committee, the 100th Anniversary Committee, the CTF-EI Committee and the Human Resources Committee. He has also represented The Society on the Canadian Teachers' Federation Board of Directors and at numerous public events. James' leadership at the provincial and national levels is sterling.
James Bedford – Election Statement
When first elected Vice President of the Society, we were concerned about our collective future. A new government, turbulent financial markets and attacks on unions were prevalent. It appears that as things change, they stay the same, but the details become clearer. We are now in the throes of an Education Review that threatens the very fabric of public education. We clearly face those who see public education through a value for money lens.
In this our 100th year we must come together as a unified Society working for the benefit of all members and our collective future. The way forward does not lie in the politics of division, but the celebration of inclusion. All members must stand firm to ensure that the Province supports French language education and newcomers. We must work, through our words and our actions, to ensure that principals remain members. With the Society's membership predominantly female, we must continue our work on behalf of the next generation of members to encourage and support future leaders. We must work to ensure that our membership reflects our diverse population. Most importantly, we must do this as a unified Society, working to benefit all members.
As those who came before us fought for the rights of all since 1919, we must honour them in coming together for our second century to continue the fight. As President, I shall do this respectfully, honourably, and with the goal of building a stronger Society for all members!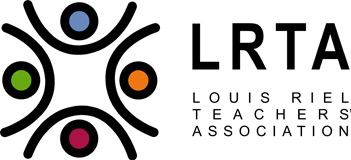 Experience, Integrity, Leadership and Respect
Please share with local Executive Members and MTS AGM delegates.
February 7, 2019
Dear Association Presidents;
The Louis Riel Teachers' Association is both privileged and honoured to announce the candidacy of James Bedford, Vice-President of the Manitoba Teachers' Society for the last four years, for the office of President of MTS. James possesses more than two decades of MTS leadership, experience and continuous involvement at both the local and provincial levels. For more than twenty years, James' leadership has been solely dedicated to working on behalf of all members of the Manitoba Teachers' Society.
James began his teaching career in 1995 in the Norwood School Division, teaching physics, science and math. He served as the Vice-President of the Norwood Teachers' Association and also began his lengthy involvement with benefits and collective bargaining. When the Norwood School Division was amalgamated with the St. Boniface School Division, James was elected Vice-President of the St. Boniface Teachers' Association and worked toward the successful integration of benefit plans and collective agreements. He was elected President of the St. Boniface Teachers' Association for two years, where he had the privilege of signing the last SBTA Collective Agreement. This was not a privilege because it was the last collective agreement of SBTA, but because it was the first SBTA Collective Agreement with a SUB Plan for maternity leave top up. With the amalgamation of the St. Boniface and St. Vital School Divisions, James had the opportunity to work with colleagues of both legacy Associations to draft the Constitution and By-Laws of the newly formed Louis Riel Teachers' Association. Within LRTA, James served as both Past President and as Vice-President of Collective Bargaining. Most recently he has served all members of the Manitoba Teachers' Society as their Vice-President.
Locally, James' committee work has included collective bargaining, benefits, AGM resolutions and numerous ad hoc committees, many of which he has chaired. Provincially, he has served as both a member and chair of the Group Benefits Standing Committee for years and has chaired both the Manitoba Public School Employee Trusts. He was elected a member of the MTS Provincial Disability Benefits Plan Governance Board and also served as its Chair. Along with other members of the Governance Board, James was instrumental in overseeing the Provincial Benefits Plan's transition from fiscal debt to financial surplus.
His Provincial Executive work has included the responsibility of chairing the Biennial General Meeting Ad Hoc Committee that reported to the 2014 AGM and serving as one of six members who sat on the MTS General Secretary Selection Committee. As VicePresident, James has chaired the Audit Committee, the 100th Anniversary Committee and the CTF-EI Committee. He serves as the MTS representative on the Board of the Canadian Teachers' Federation and has been vocal in his support of Indigenous education and labour rights at that forum. James' work on behalf of members and the leadership he has provided, especially at the provincial level, is a testament to his abilities and the confidence of members in his abilities.
Through his dedication to all members and his work with many committees, James is very familiar with all of the MTS Provincial Regions. This is complementary to his firm belief in bringing the issues and concerns of the Society directly to the membership. James' belief is reflected in his many visits and interactions with the membership throughout the province as MTS Vice-President. These interactions are best exemplified by his commitment to visit one hundred schools in this centennial year. James has always believed that the strength of the Society is found in its membership, and by emulating all members' principles of successful classroom teaching in his work, he continues to provide effective leadership for all members. Just as in the classroom, successful work as an elected representative of the membership requires excellent preparation, varied experience, articulate communication skills and steadfast dedication to do the right thing. James has proven that he has these aforementioned leadership skills which are necessary to build a stronger Society, now and in the future, for the benefit of all Society members throughout the province.
The future of public education is uncertain. The ability to bring unity to our purpose and endeavours is more important than ever before! James' integrity and honesty are unquestionable and beyond reproach. His experience in problem solving, his communication skills and his strong background in governance and finance continue to be essential to meeting the future needs of the Society and its membership.
Experience, integrity, leadership and respect; these are the attributes that all members look for in their elected leaders and these are the strengths that James possesses. By electing James as President, together, we shall demonstrate our commitment to building a stronger Society!
I ask you once again to support James' candidacy for President and, be rest assured, James appreciates your support.
Sincerely,
Frank Restall
President
Louis Riel Teachers' Association